COVID-19
We will continue to update our school community on the status of upcoming school events as they draw near. Please continue to check our website and social media for the most up-to-date information. We appreciate the support and involvement of our parents and school staff.
Information will now be posted by date in order to make the most recent information easier to find.
AAEM Reopening Statement from Governing Board
PLC Charter School's Governing Board decided unanimously to continue academic instruction through distance learning due to the high rate of COVID-19 cases in the Tolleson area. Distance learning will continue through November 4th, with a reassessment of the situation during the week of October 19th. You can read the full statement from Principal Ramirez here.
Safe Place to Learn***UPDATED 9/15/2020***
In accordance to EO2020-51, starting August 17, 2020, schools "must begin offering free on-site learning opportuinties and support services" to students in need, as identified by the school. More information and directions regarding this Executive Order can be found here.
State Benchmarks for Reopening
State officials have recommended using specific data benchmarks to guide schools when determining when to open their facilities. This data is being pulled from the Arizona Department of Health Services. Please click here for the benchmarks we are being urged to use and how each county in Arizona is faring when it comes to approaching these benchmarks to reopen.
School Reopening Plan
Here is AAEM's Reopening Plan. This outlines the steps we will be taking to ensure a safe and healthy campus once the decision to reopen our physical buildings happens. We will be referring to this as we get closer to opening our physical buildings back up to students and families for in-person instruction.
AAEM Start Date is July 23rd!
Governor Ducey, in coordination with Superintendent of Public Instruction Kathy Hoffman, announced that the first day of school for in-person learning will be delayed until August 17th, 2020. Schools will be able to conduct distance learning before then, should they choose.
Since AAEM will be conducting lessons virtually to begin the school year, our start date will remain as scheduled for July 23rd.
We will continue to keep you updated as we receive more guidance.
June 19th
Virtual Town Hall to be held Wednesday, June 24th from 5-6pm. To submit questions ahead of time, click here!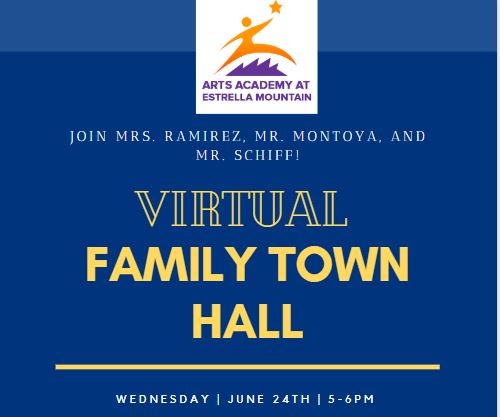 June 11th
The Governing Board has voted unanimously to continue our distance learning to begin the 2020-2021 school year. More information will follow as we more forward!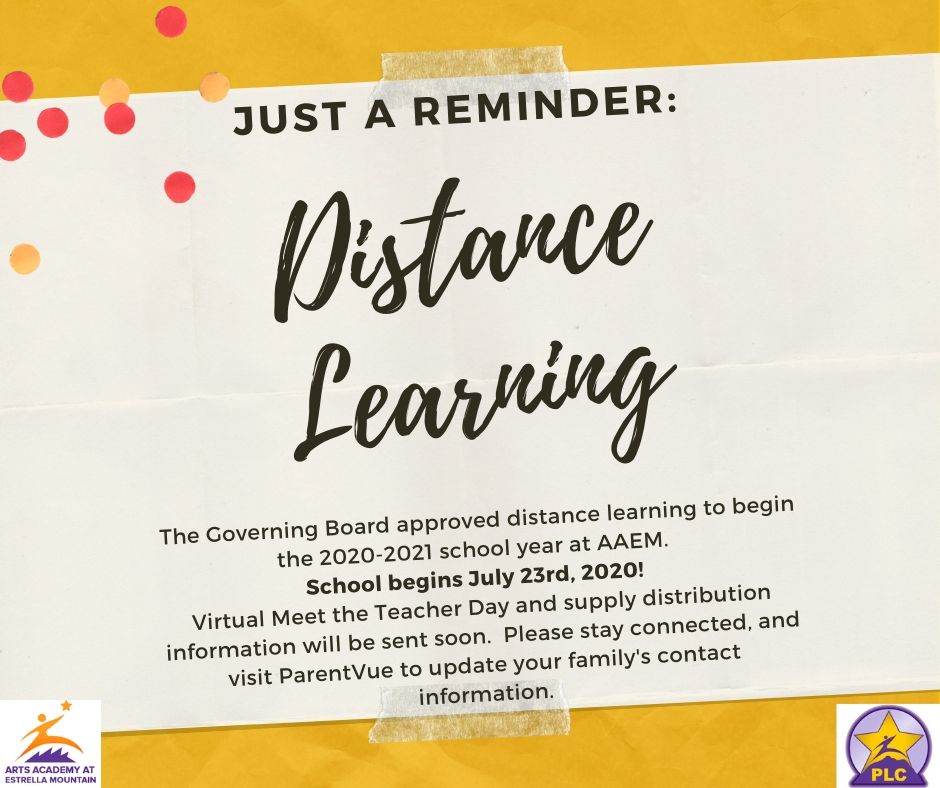 May 15
Fourth Quarter Report Cards: Report cards can be viewed and printed by logging into ParentVUE or StudentVUE. If you do not have a ParentVUE account, please complete the ParentVUE Account Request Form.
May 14
Picture/Certificate Pick Up: The office will be open May 19th and 21st from 8:00am to 12:00pm to pick up spring individual pictures, Kinder promotion certificates, and/or 8th Grade promotion certificates. If your promoted 8th grade student borrowed a Chromebook, it will need to be returned before you will be given their promotion certificate.
May 13
Yearbooks: We wanted to reach out to provide an update with the status of our 2019-2020 yearbook. Due to COVID-19 this year's yearbook is unique from previous years and it is our top priority to ensure yearbooks are delivered to all families that placed an order.
Lifetouch, our yearbook partner, is in uncharted waters with the COVID-19 virus. They have had government-mandated shut-downs in some of their production facilities and social distancing protocols in others that have reduced capacity for printing yearbooks. Be assured that everyone who ordered a yearbook will receive one. However, the delivery of your yearbook will be delayed, resulting in arrival after school is out for the summer.
We will be in touch when we know more about the timing of the delivery of our school's yearbooks.
May 12
Chromebook Returns: Chromebook collection dates have been scheduled for May 13th, 19th, and 21st. Only students that are not returning for the 20/21 school year need to return their Chromebooks at this time. Please visit the Chromebook Returns page for more information.
May 4
Weekly Lesson Plans have updated on the Academic Resources page.
This week is Teacher and Staff Appreciation Week! See below for more information.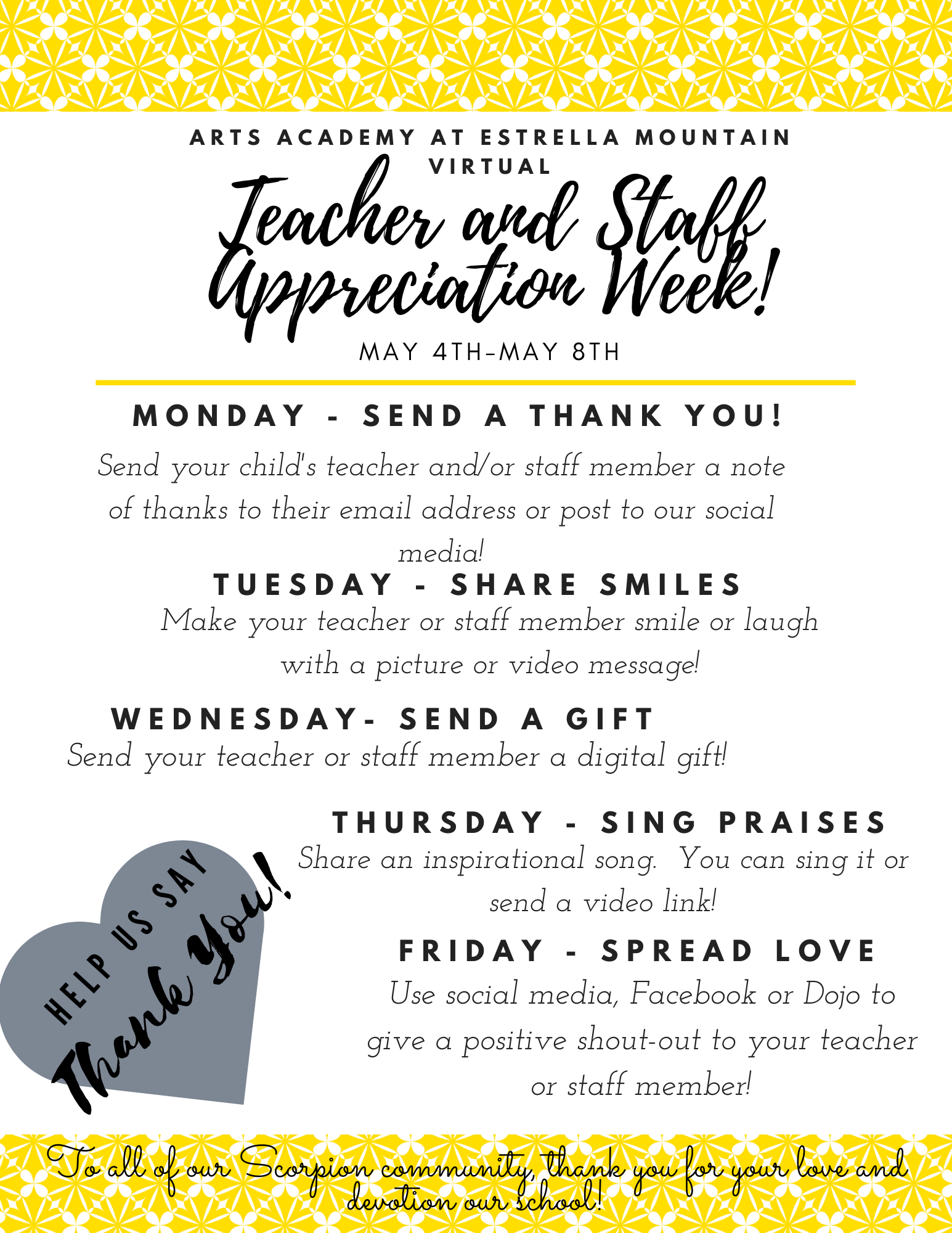 April 27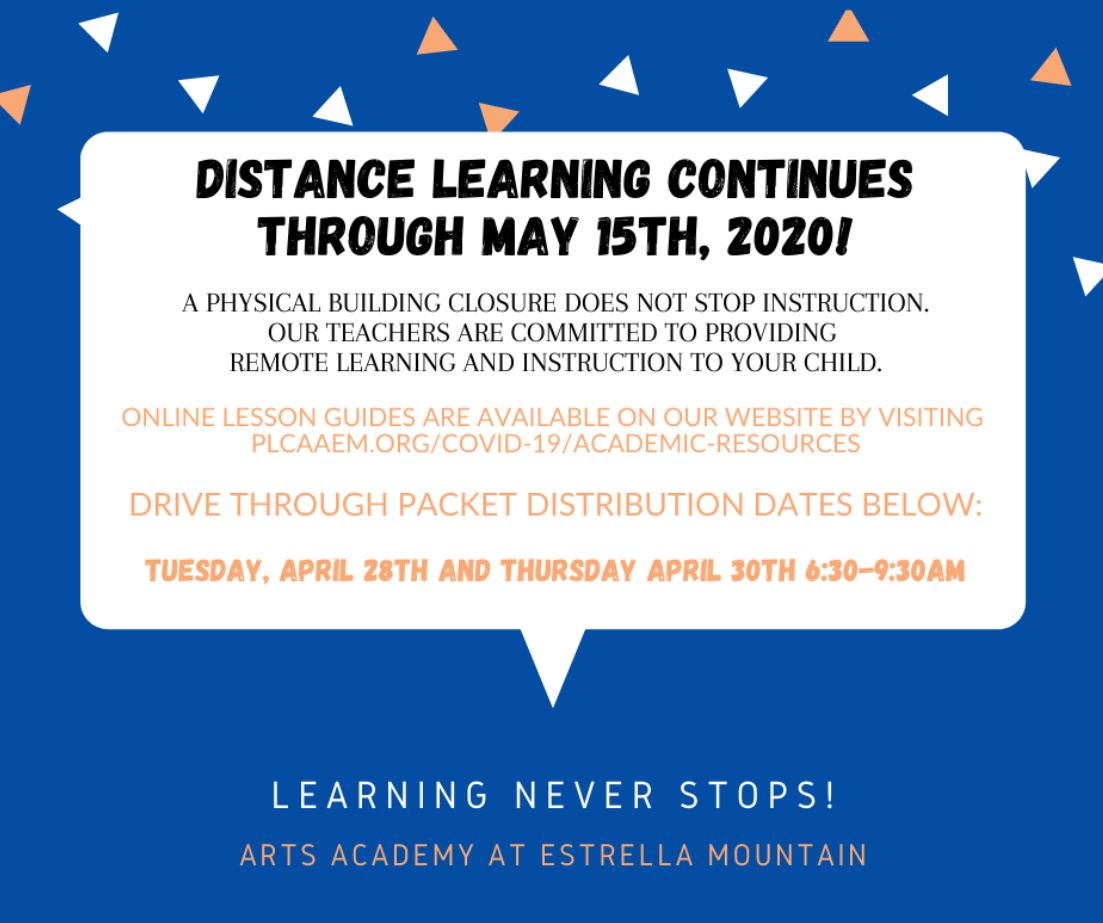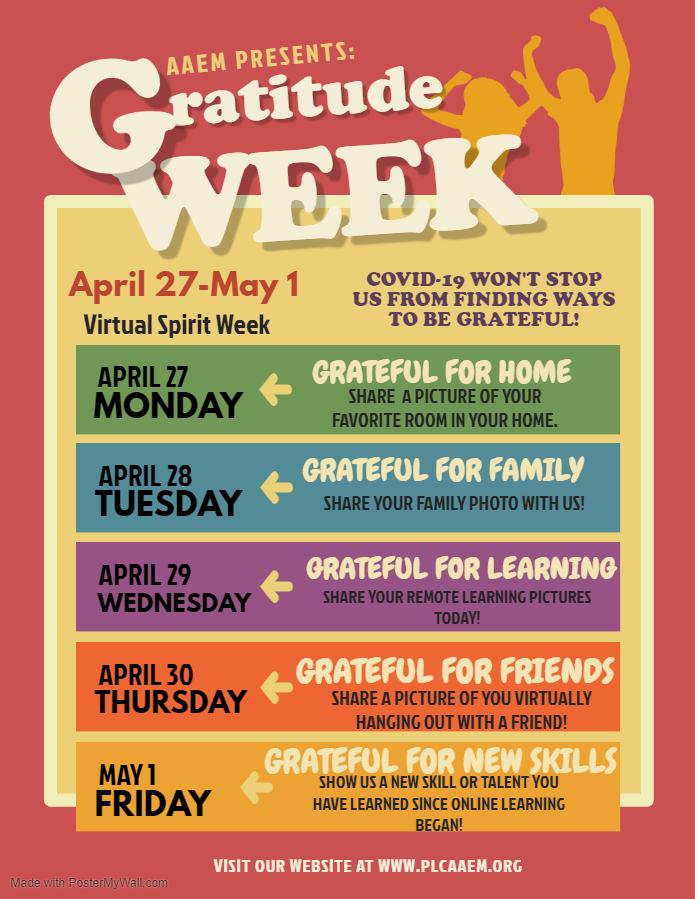 April 21
Below are links to frequently asked questions about COVID-19, the school closure, student work, grading, report cards, and more:
April 13
Packet, Chromebook, and Medication Distribution: We will be distributing the next round of packets as well as Chromebooks this Tuesday 4/14 and Thursday 4/16 outside of the front office from 6:30-9:30am. Packets and Chromebooks will be distributed using a 'drive through' approach to minimize contact. Student medication will also be available for pickup outside of the front office during the same time.
April 2
Chromebook Distribution: Thank you to everyone that completed the Parent-Guardian Survey. If you did not complete it, please do so now. If you have completed the survey and requested a Chromebook, please print and fill out the Chromebook Checkout Form / Formulario de prestamo de Chromebook. Forms will also be available during grab-and-go breakfast/lunch distribution and the Chromebook distribution times below.
Date
Lastname A-M
Lastname N-Z
Friday, 4/3
10am - 11am
11am - 12pm
Tuesday, 4/7
6am - 8am
8am - 10am
Wednesday, 4/8
5pm - 7pm
Thursday, 4/9
8am - 10am
6am - 8am
April 1
It's no April Fools' joke. We are closed for the rest of the 2019/2020 school year. Please view the updated school closure letters below:
March 31
Starting the week of April 5th, Grab-and-Go meal services hours will be Tuesdays and Thursdays from 6am to 9:30am until further notice. Breakfast and lunch will both be available for pick up at this time (2 days of meals on Tuesday and 3 days of meals on Thursday). Click here for the full letter.
March 30
Governor Doug Ducey and Superintendent of Public Instruction Kathy Hoffman today announced the extension of Arizona school closures through the end of the school year. The extension follows updated guidance from the Centers for Disease Control and Prevention (CDC) and an announcement from the White House extending physical distancing guidelines until April 30, 2020. The full story can be found here.
March 25
Dear AAEM Families,
Starting Monday, March 30, we will be providing a more formal approach to at-home instruction. This will be accomplished through Google Classroom, Clever, and the other online academic resources available to us. However, we know that not all families have access to the internet and/or enough computers for every student at home. Please complete the following form so that we can determine how best to contact you and how many Chromebooks need to be prepared for checkout.
During this time of school closure, it's very important that we have the correct contact information. We use the contact information from ParentVUE to send out automated phone calls, texts, and e-mails. Please log into ParentVUE and review your contact information and make sure it is correct. If you do not have access to ParentVUE, e-mail office@plccharterschools.org with your name and your student(s) name(s).
Estimadas familias de AAEM,
A partir del Lunes, 30 de Marzo, proporcionaremos un enfoque más formal al aprendizaje en el hogar. Esto se logrará a través de Google Classroom, Clever, y otros recursos académicos en línea disponibles a lá escuela. Sin embargo, reconocemos que no todas las familias tienen acceso a Internet y / ó a dispositivos suficientes (ordenadores portátiles, computadoras) para cada estudiante en casa. Para que podamos determinar quién tiene acceso a Internet y / ó a dispositivos, al igual de el mejor método de contactarlo(a), por favor complete el siguiente formulario. Está información también nos ayudará a determinar cuántos ordernadores portátiles (Chromebooks) necesitamos preparar para prestar.
Durante este tiempo de cierre de la escuela, es muy importante que tengamos la información de contacto correcta. Utilizamos la información de contacto de ParentVUE para enviar llamadas telefónicas, mensajes de texto y correos electrónicos automáticos. Inicie sesión en ParentVUE y revise su información de contacto y asegúrese de que sea correcta. Si no tiene acceso a ParentVUE, envíe un correo electrónico a office@plccharterschools.org con su nombre y el nombre de su(s) estudiante(s).
March 24
March 20
Governor Ducey and Superintendent Hoffman announced a two-week extension of school closures through Friday, April 10, 2020. Going forward, Governor Ducey and Superintendent Hoffman will continue to provide updates and guidance about the need for continued school closures beyond that date. An "Open Letter To Arizona Families, Educators, School Leaders, And Education Community Members" can be found here.
March 19
Visit Clever at https://clever.com/in/plcaaem to access the online resources used at AAEM. In order for Clever to automatically log into some of the sites, you'll need to install the Clever Browser Extension by following the instructions here.
March 18
March 17
March 16
Members of PLC Charter School's leadership team along with AAEM's campus administration met this morning to discuss our approach to best support our students and their families during this time.
PLC Charter Schools – Arts Academy at Estrella Mountain will be providing free grab and go breakfast and lunch for children. Any child 18 and under can pick up a meal to enjoy at home while the school is closed. You do not need to be a student at AAEM to receive a meal. We are committed to serving the nutritional needs of our community during this period of school closures.
Please look for communication via Class Dojo and email from our committed team of teachers who have worked diligently to provide your child(ren) with academic resources and activities to support learning at home. Digital resources for our students have been assigned via Clever using Google Classroom; Moby Max; and Coach Digital.
Please view the complete food and academic letters below:
March 15
PLC Charter Schools has been closely monitoring the global spread of the COVID-19 virus. We have been diligent in following prevention methods recommended by our county, state, and federal officials. After careful and thoughtful consideration, AAEM has decided to close our campus to join in the effort of slowing the spread of COVID-19. As of Monday, March 16th, 2020 our campus and departments will be closed through Friday March 27th. This will include all after school clubs, athletic programs, Scorpion Academy, school functions, as well as the use of our facilities by members of the community.
Please view the complete school closure letters below: